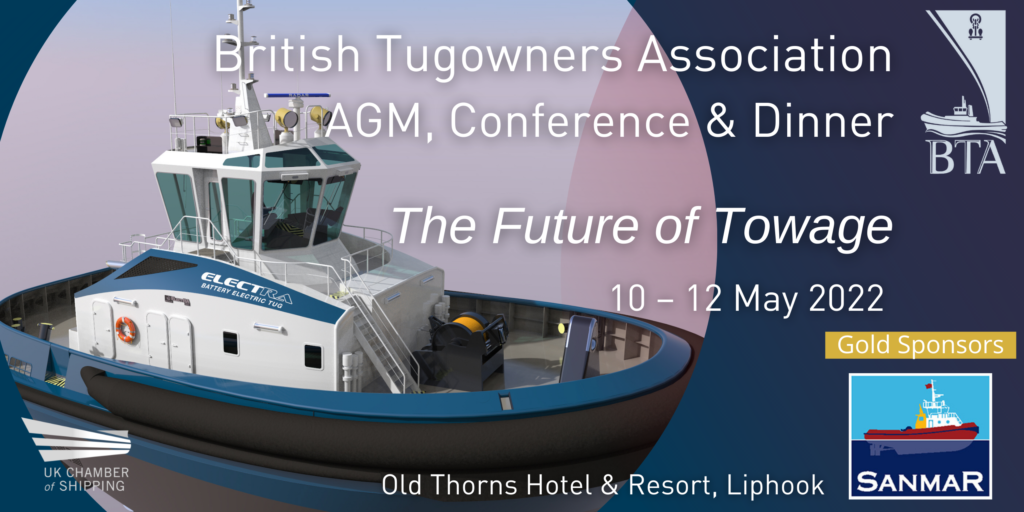 The British Tugowners Association is delighted to announce registration and ticket sales are now open for its Annual General Meeting, Conference & Dinner 2022.
The BTA's Annual Conference, taking place at Old Thorns, Liphook on Wednesday 11 May 2022 will consider the question:
What does the future of towage look like?
With discussion from leaders of Government and industry, the Conference will speak to four key themes:
Safety, Decarbonisation, Autonomy, Skills.
The programme is in development and will be announced fully in due course with many additional speakers. Those confirmed however include:
Brian Johnson – CEO, Maritime & Coastguard Agency
Graham Westgarth, President, UK Chamber of Shipping
Sarah Treseder, CEO, UK Chamber of Shipping
Sanmar Shipyards
Department for Transport Future Technologies Team
The Conference provides an ideal time for delegates to meet, exchange ideas and network so early registration is encouraged. As well as members of the BTA, members of UK Chamber of Shipping, in particular those who attend the Harbour Towage Panel, are welcome and encouraged to attend, and join for the golf. Non-members of the BTA or UK Chamber are also welcome and encouraged to get insight and access into leaders of the industry, with spaces available at a non-member rate.
In response to delegate suggestions, there has been a change of order and the BTA's annual golf competition, the Sir William Crosthwaite Cup, will take place the afternoon before, on Tuesday 10 May.
The BTA warmly welcomes Sanmar Shipyards, as the Conference's Gold Sponsors, for the support and contribution.
For further information on registration, booking, and sponsorship opportunities, please contact Joanne McGhee
Please click here to open sponsorship packages BTA Sponsor Pack
For content, speaker or membership opportunities of the BTA, please contact Robert Merrylees, BTA Secretary, rmerrylees@ukchamberofshipping.com
Outline timings (subject to change):
10 May:
1500 – Sir William Crosthwaite Cup – Golf (Please note no Golf equipment hire available)
Overnight stay
11 May:
1045 – British Tugowners Association 87th Annual General Meeting (members only)
1145 – Conference Opens
1300 – Lunch
1400 – Conference Restarts
1715 – Conference Closes
1845 – Drinks Reception
1945 – Annual Dinner
2300 – Carriages or overnight stat at hotel
12 May:
0800 – Breakfast and depart
With thanks to our Gold Sponsors