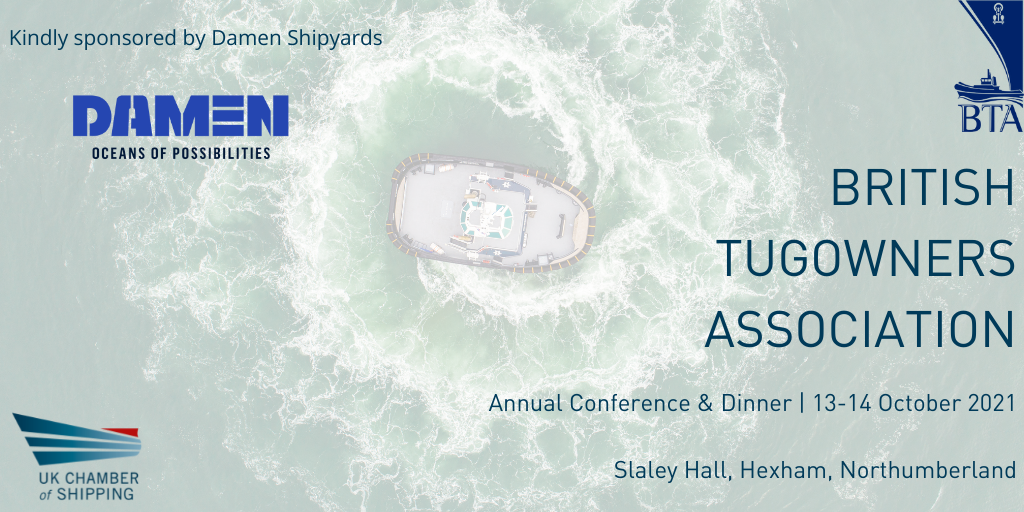 The British Tugowners Association is delighted to announce registration and ticket sales are now open for its Annual Conference 2021 taking place in-person.
The BTA's Annual Conference, taking place at Slaley Hall, Hexham on Wednesday 13 October 2021 will focus on decarbonisation and environmental enhancement for the towage sector, with discussion from leaders of Government and industry.
Speakers confirmed for the Conference include:
• Robert Courts MP – Maritime Minister
• Brian Johnson – CEO, Maritime & Coastguard Agency
• John Denholm, President, UK Chamber of Shipping
• Geert Vandecappelle, CEO & Stijn van Beneden, Fleet Manager, Boluda Towage Europe
• Damen Shipyards
• Department for Transport Domestic Emissions Team
• Duncan Duffy – Global Head of Technology, Electrotechnical Systems, Lloyds Register
• James Trimmer – Director of Planning & Environment, Port of London Authority
The Conference will examine the path to decarbonisation for the towage sector in the UK, and how industry and government must collaborate and succeed to find joint solutions. It provides an ideal time for delegates to meet, exchange ideas and network so early registration is encouraged.
The BTA Annual Dinner will be held in the evening and the annual golf competition, the Sir William Crosthwaite Cup, will take place the following morning, Thursday 14 October.
The BTA warmly welcomes Damen Shipyards, as the Conference's Gold Sponsors, for the support and contribution.
As well as members of the BTA, members of UK Chamber of Shipping, in particular those who attend the Harbour Towage Panel, are welcome and encouraged to attend, and join for the golf if they wish.
Non-members of the BTA or UK Chamber are also welcome and encouraged to get insight and access into leaders of the industry, with spaces available at a non-member rate.
For further information, sponsorship opportunities, specific queries or membership opportunities of the BTA, please contact Robert Merrylees, BTA Secretary.
Should you wish to stay at Slaley Hall the night before (12 October), please contact the BTA Secretary, who can facilitate arrangements. A special rate of £100.00 for B&B has been agreed with the hotel.
Outline timings for 13 October (subject to change):
1100 Registration & Networking
1145 Conference Opens
1300 Lunch
1400 Conference Restarts
1730 Conference Concludes
1830 Drinks reception
1930 Dinner
2300 Carriages
The Conference is kindly sponsored by Damen Shipyards.
The BTA & UK Chamber of Shipping are taking all precautions and liaising regularly with Slaley Hall as to Covid-19 protocols and safeguards to ensure a safe and enjoyable stay.