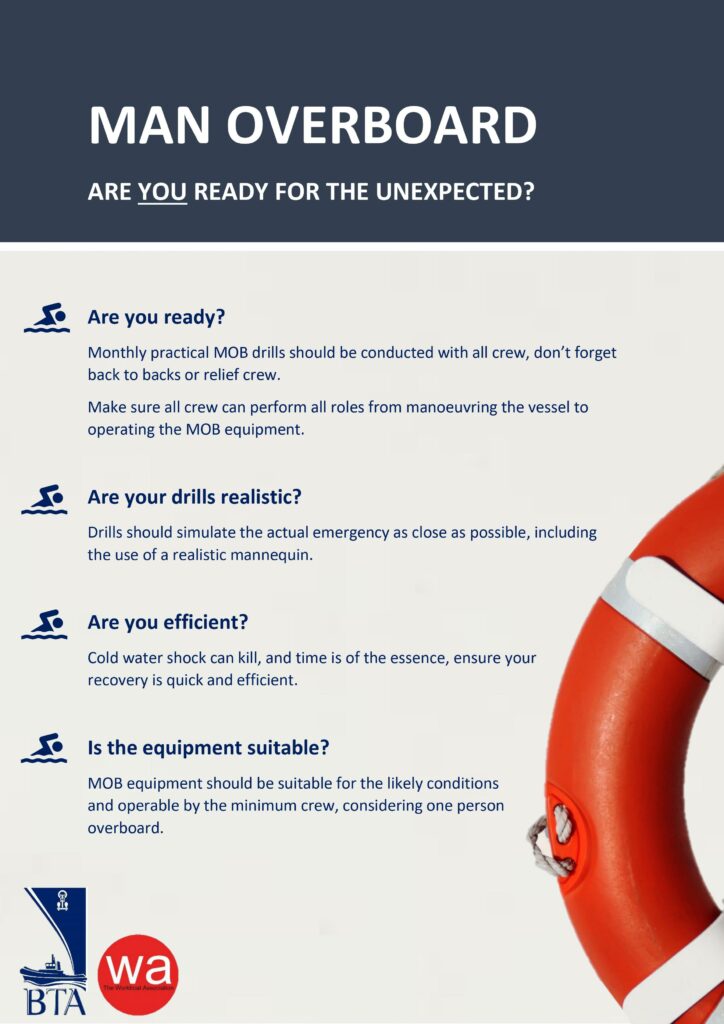 The British Tugowners Association jointly co-hosted with the Workboat Association a open safety forum as part of Seawork Connect, to discuss recovery of persons from the water. 
The panel discussion, which took place on 6 October, is available to rewatch on Youtube. Available Here
The panel provided learnings from some of the industry's operations and safety leaders along with experts guests, the key challenges and opportunities to the successful recovery of a person from the water. Topics discussed included: practicality; preparations; equipment; manning/training; and suitability.
Chair/Moderators:
Scott Baker, BTA Chairman, Svitzer
Kerrie Forster, CEO, Workboat Association
Speakers:
Jack Martin, Marine Accident Investigation Branch
Mike Proudlove, Offshore Turbine Transfers
Nick Jeffery, Solent Towage/Ostensjo Rederi
Shaun Mansbridge, Williams Shipping
Tony Wafer, RNLI
Key Messages from the discussion
Jack Martin; Marine Incident Investigator, MAIB.
"Our statistics show that in water temperature around 10 degrees, the average time to incapacity is around 10 minutes. Essentially in most cases around the UK the vessel will be recovering an unconscious person, and if not unconscious then at least incapable of assisting in their own recovery.
Of course, we encourage operators to try and prevent crew going overboard in the first place, but the provision of immersion suits and properly fitted lifejackets (with crotch straps if appropriate) will have a significant impact on survivability and give the crew on board, and rescue services, more time to carry out a successful recovery."
---
Tony Wafer, Senior Water Safety Partner – RNLI
"The RNLI takes MOB recovery drills very seriously as we have a duty to ensure we keep our volunteer Lifeboat crews as safe as possible…
Top tips from our crews:
Practice mayday procedures as part of this (MOB is a Mayday call) inc VHF operations
Speak to the Coastguard if you're doing an exercise and label your mannequin. It could save false alerts from well-meaning members of the public thinking a distress is in action
Practice in a few different sea states as the recovery kit will never act as you want it to when you need it
Ask a Lifeboat. If you have a Lifeboat station near you, ask them for a joint exercise, you never know"
---
The session also saw the joint launch of a new MOB recovery safety poster, raising the importance of realistic drills and is available below.
Comments invited to Robert Merrylees, BTA Secretary, rmerrylees@ukchamberofshipping.com